Why Implement GDPR Awareness Training?
Improve Your Business's Data Protection
Ensure GDPR Awareness Among Employees
Demonstrate Regulatory Compliance
Avoid Heavy Regulatory Fines
​​​​​​​ Develop a Security-Minded Culture

​​​​​​​
Strengthen your efforts in GDPR compliance. Deliver your own unique messaging.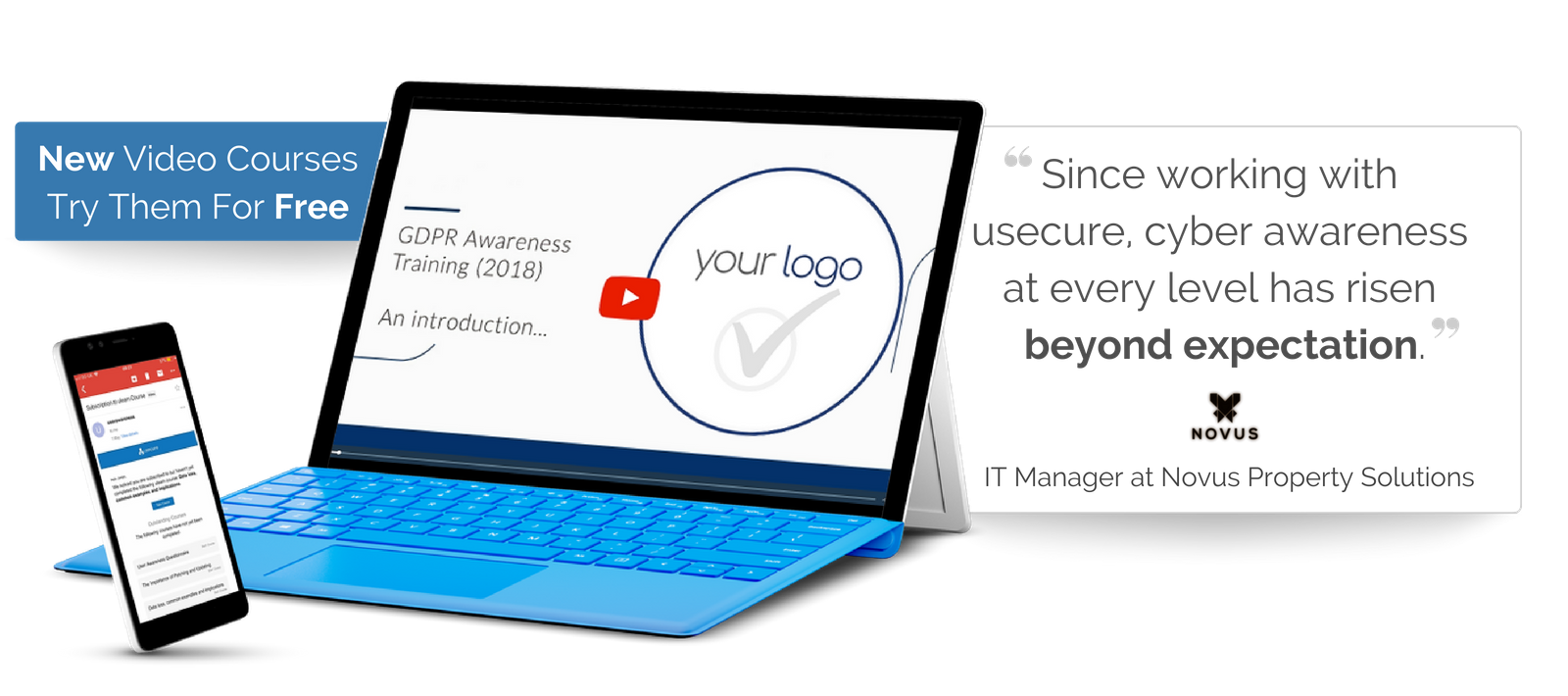 Make GDPR Awareness Training a Little Less Loathed.
Let's face it, most employees are never going to be thrilled by the idea of GDPR and data protection awareness training; That's exactly why we've crafted a number of engaging and easily retainable bite-sized courses that educate your users, without inflicting a barrage of frustration on your IT team.
---
How Does It Work?
usecure's cloud-based training platform offers a sophisticated yet easily implemented solution for educating your employees on data protection and the GDPR, including:

Customisable and company-branded video content

Easily retainable and challenging bite-sized modules

Trackable participation reports for future audits and uptake

User-centric and easily understandable language

A custom dashboard with granular progress reports and data exports
---


What Modules Are Included?
You'll also have access to the following courses in your library:
An Overview of The GDPR
GDPR for Consumers
GDPR for Senior Staff Members
An Overview of the Data Protection Act
Security Awareness Training and Data Protection
Data Classification

Plus your own custom modules
Your module library also comes with 12 information security awareness best practice courses - including phishing, social engineering, working remotely and many more ISO 27001-related topics.
---


Try Your Modules, For Free.​​​
No card details. No tie-ins. Just free access.
Want to see what the courses look like? Get free access to your modules below, including your GDPR video-based awareness courses.
---
Got a Question?
Feel free to contact our team via [email protected], 0161 214 0869 or send us a message in our live chat at the bottom right of this page.
Alternatively, you can choose to book a short online demo with us.
Try Usecure for free
Start securing your workforce today with Usecure
Free Trial