Security Awareness Training
Why Launch An Information Security Awareness Training Programme?
---

Educate your employees on common security threats

Reduce the risk of employee-caused data breaches

Identify user vulnerabilities in your workforce

Demonstrate your efforts in regulatory compliance

​​​​​​​ Gather metrics on user progress to ensure your efforts are reaping sufficient ROI.
---
​​​​​​​

Effortlessly Raise Employee Security Awareness. Automate Your Training
.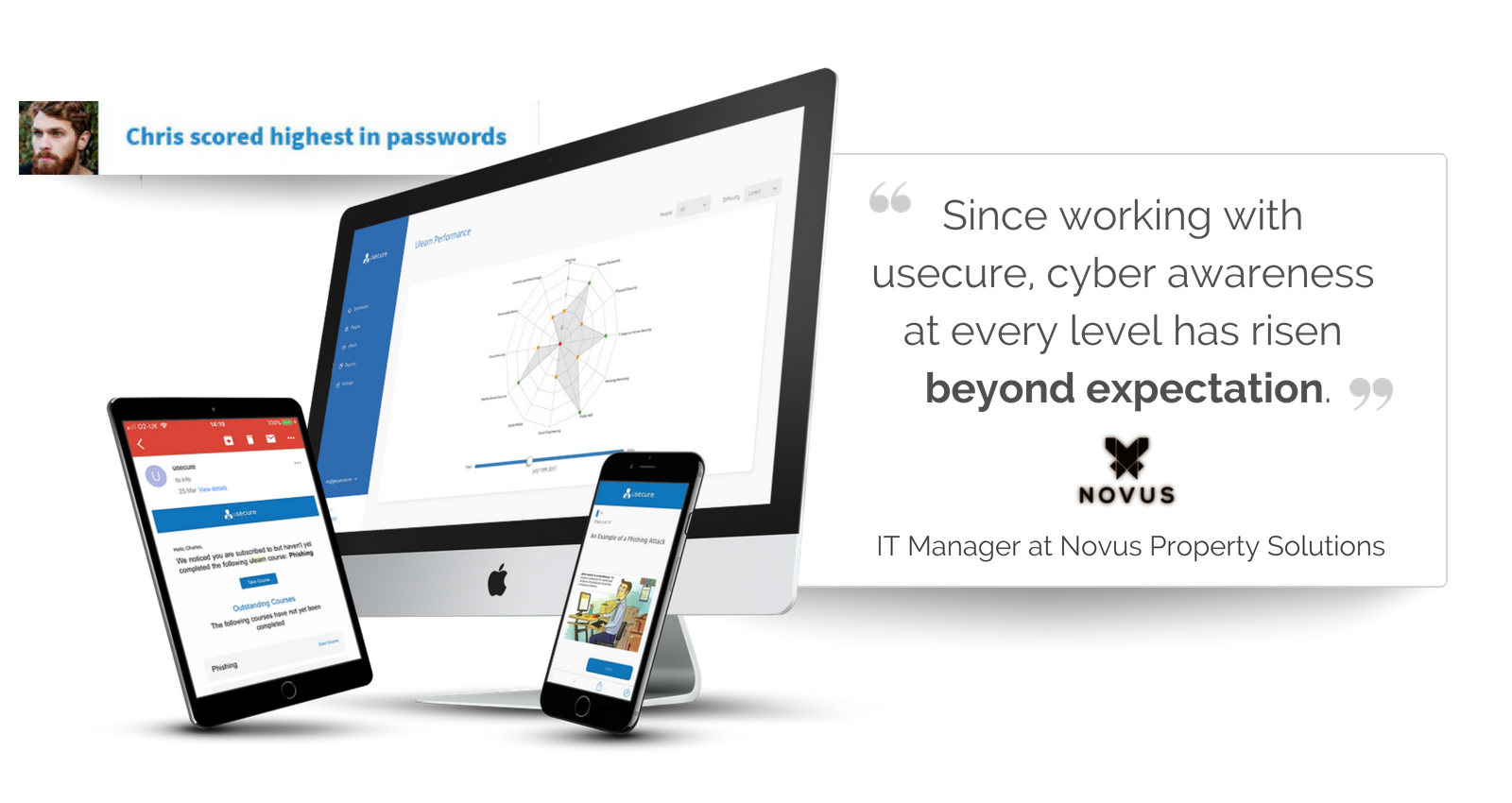 Raising employee awareness, without draining your resources...
Every aspect of our training platform is designed to offer your business an easily implemented solution for educating employees on information security, all while giving your users an individually-tailored learning experience that ensures progress without hampering productivity.
We use an automated four-stage approach of Evaluate, Educate, Simulate and Report - saving your organisation time, money and sanity, while delivering trackable development. Here's how it works:
​​​​​​​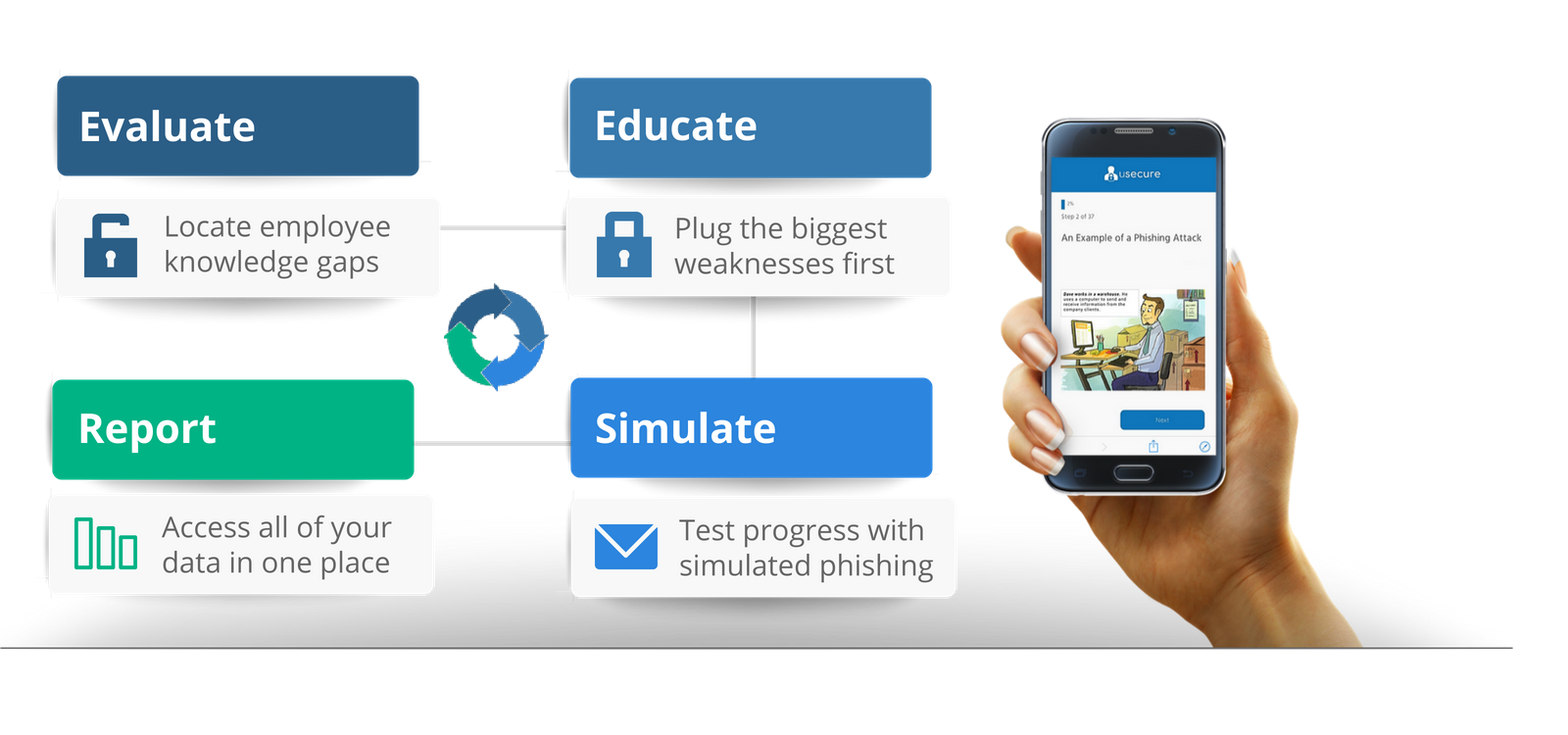 ---


Evaluate | Employee Gap Analysis
Easily locate your user's weakest areas of cyber security with an initial online assessment
Gain an initial assessment of your user's individual knowledge gaps around a variety of core ISO 27001, information security and GDPR compliance topics - all with your online employee gap analysis questionnaire.
Benefits:
Locate your end user's information security vulnerabilities - before they are exploited
Clearly demonstrate the need for company-wide employee information security awareness training
Benchmark where your security awareness training efforts are most needed
Features:
36 multiple choice questions based on key information security frameworks and best practice
Approximate completion time of just 15-20 minutes
Full analysis of employee results from your custom dashboard
---
Educate | uLearn
Plug the knowledge gaps with individually-tailored modules
usecure's eLearn inspired 'uLearn' software will gradually deploy a range of ISO 27001, data protection and cyber security best practice training modules to your users - prioritised from your employee's individual gap analysis scores.
​​​​​​
Benefits:
Reduce the risk of employee-caused data breaches
Demonstrate consistent efforts in regulatory compliance
Save time and money on designing an in-house programme
Ensure that your users receive the most effective training possible
Features:
Individually-prioritised awareness modules, automatically delivered using your user's gap analysis results
A library of pre-made modules covering key security threats, best practice and regulatory compliance standards
Deliver your business's unique messaging with company-branded and custom content
Bite-sized modules with automatic course invitations and reminders
---
Simulate | uPhish
Test the progress of your employees with simulated phishing attacks
Testing the learning progress of your employees has often been a problematic barrier to security awareness training; That's exactly why we've introduced the 'uPhish' simulated phishing tool to the usecure platform.
​Benefits:
Gain an insight into how much progress your users have made
Discover what percentage of your employees are still susceptible to a phishing attack
Locate the most phish-prone individuals and departments throughout your organisation
Benchmark your business's need for further phishing awareness training
Features:
Access the opened, clicked and compromised rate of your users from your customisable dashboard
Choose your email templates from a library of pre-made designs, impersonating the world's most trusted brands
Create your own customisable campaign to replicate your business's unique phishing threats
Struggling for time? Allow our specialists to run your campaign for you - including targeted spear phishing attacks
---
Report | Your Dashboard
Take the guesswork out of determining user progress with your custom dashboard
Gathering metrics on user progress is undoubtedly one of the more vital parts of any effective awareness programme. With your customisable reporting dashboard, you're able to monitor the development of your employees while demonstrating your compliance efforts in future audits.
Benefits:
Demonstrate your efforts in ISO 27001, cyber essentials and GDPR compliance
Reduce time spent on manual data collection and analysis
Maximise the value of your security awareness investment
Easily monitor and feed back on the progress of your employees



Features:

Easily-accessible data all in one place
View your user's gap analysis, uLearn and uPhish results in customisable metrics
Export your data into custom .CSV files
Automatic monthly manager's report, including insights into their team's progress

---
Start Your Free Trial
No card details. No tie-ins. Just free access.
Register your free trial of the usecure security awareness training platform to:

Access the platform for seven days (Need longer? Just ask and we'll extend your trial for free)

Test out the employee gap analysis, uLearn modules and uPhish tools on up to five employees

Recieve optional support to help you get the most out of your trial period
---
Got a Question?
Feel free to contact our team via [email protected], 0161 214 0869 or send us a message in our live chat at the bottom right of this page.
Try Usecure for free
Start securing your workforce today with Usecure
Free Trial