Why Launch An Employee Information Security Awareness Programme?
---
Educate every employee on the most common security threats they face;
Focus on leading your business, instead of conducting cyber education;
Reduce the risk of cyber attacks, such as phishing and social engineering;
Avoid learning fatigue whilst maximising retention rates;
Identify weaknesses in your workforce before they become a problem.
---
Want to get started? Get free access to uLearn below and test out your security awareness training modules:

​​​​​​​
Employee Security Awareness Training. Effortlessly Delivered.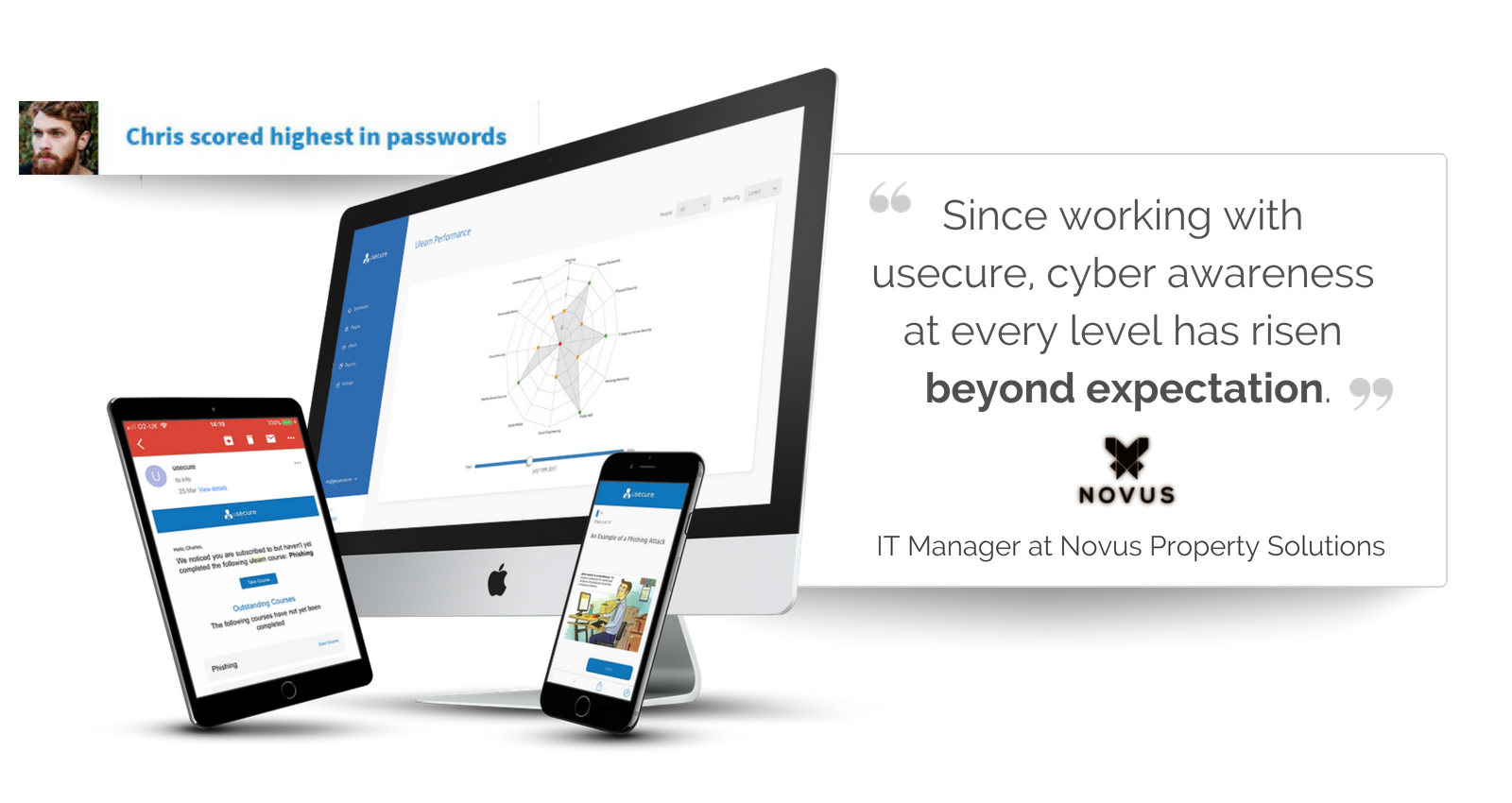 uLearn | Automated Security Awareness Training
As the second step of usecure's automated four-stage security awareness platform, our eLearn inspired 'uLearn' software is equipped with ISO 27001, GDPR compliance and cyber security best practice training modules - closing any information security knowledge gaps your users may have.
---
How does uLearn work?
Finding the time and resources to get everyone up to speed on information security awareness can be a daunting task. Your uLearn courses offer an easier and more effective solution. Here's how it works:

Locate your employees' biggest vulnerabilities
Initially, your users will be emailed a short online gap analysis questionnaire that can be completed at a time of their choice. The questionnaire will assess their knowledge of information security, highlighting their individual weaknesses in your custom reporting dashboard.
Save time and money with automated programmes
Based on their lowest scoring areas of the questionnaire, uLearn will automatically create individually-tailored security awareness programmes for your users and deliver bite-sized learning modules that will plug their largest knowledge gaps first.
Ensure that awareness continues to progress
With accessible results and grades, you'll be able to monitor the learning progress of your users from your reporting dashboard, along with custom reports and data exports.
---


What modules are included?
We're always adding new content to our library of security awareness and compliance modules, here's a list of some of our current training topics:
​
---


Try uLearn For Free
Get instant free access to the full usecure platform and try out our unique employee security awareness training platform.
---


Want to chat with us first?
Feel free to message us on our live chat at the bottom right of the page, or, email our team at [email protected] for any questions you may have.
Try Usecure for free
Start securing your workforce today with Usecure
Free Trial
Frequently Asked Questions
How advanced is your ulearn Security awareness training?
There are three levels of ulearn – Beginner, Intermediate and Compliance. Each of our 12 modules scale up in this manner.uLearn is designed to cover a 2 year programme of Security awareness.
Are learners assessed at the end of each ulearn module?
Users must answer a series of multiple choice questions at the end of each module. They are randomised, offering no chance of pre-emptively guessing the test if someone has to take it again, or if their colleagues do it first.